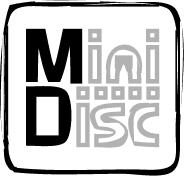 Sony
MZ-E909
MZ-E500
MDT-515
MZ-R50



The only place to visit for
information on the former smallest
portable, recordable Mini Disc
player in the world!
Firstly, a few points about Mini Disc to silence all the sceptics:

Replaces Cassette
Contrary to popular thinking, Mini Disc is not aimed at replacing Compact Disc.

No Quality Degradation
Each time you play a cassette the recorded signal diminishes. Every play with Mini Disc is identical due to its digital nature.

CD Quality Audio
Although Mini Disc uses a method of data reduction, it maintains audio quality virtually indistinguishable from CD audio.

Instant Track Access
No having to mess about searching for a song, simply select a track and press play.
If you're a E909, E500, MD515 or R50
owner, bookmark this main page
and come back regularly!
A web page by Matt Sephton. Any feedback welcome.