Terra Firma
by Matt Sephton
Story
Terra Firma was an entry into the BlitzCoder Stupidest Game competition, back in Summer 2002. It was written using BlitzPlus (PC).
It didn't win the competition, but I had a lot of fun making it. I thought a FPS/Tetris hybrid had won, but apparently it was something else entirely!
Download
Windows beta 0.6 (678kb zip file) Windows 95 and above [2003-02-17]

Links
View a cached version of the competition results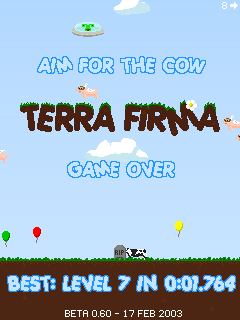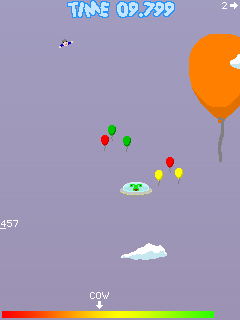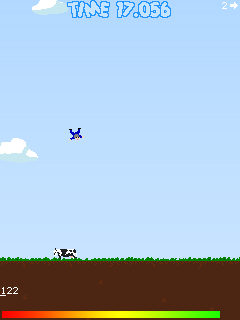 README
======

HOW TO PLAY:
You've got to get to terra firma as fast as possible, by any means necessary.
Do this across varying levels for as long as your energy bar lasts.

THINGS:
Clouds will slow you down and zap your energy.
Pigs will make you dizzy.
Other airborne objects will both help and hinder.
It's up to you to figure out what to hit and what to avoid.

Don't forget to aim for the cow, if you hit it you get a bit of energy back.
And watch out for the wind.

CONTROLS:
Use the cursors (joytick/mouse to follow) to move around
SPACE for next level, ESC to quit
S toggles sound on/off

CREDITS:
All graphics and code by Matt Sephton (matt.sephton@gmail.com)
Sky diver image by Eric Kendrick, edited by Matt.

THIS VERSION:
Recompiled in BlitzPlus meaning smoother windowed gameplay,
Fixed cosmetic display problem,
Added ability to electrify cow!

THANKS:
All sound effects except "moo"* and "powerup"# are taken from:
http://www.a1freesoundeffects.com

* from http://www.flashkit.com
# any guesses as to where this one is from?