yaking
a kayaking simulator*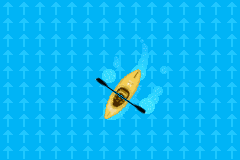 download latest test (333kb)

10 Apr - turning now requires multiple key presses, added simple gates.
04 Apr - released public alpha for feedback.
27 Mar - fairly happy with controls, currents and canoe anim.
2002

by Matt Sephton

* = not to be taken too seriously as an accurate reproduction of real kayaking life.