News



23rd July 2004


Added factory reset information.



16th September 2003


Corrected some links, added some reviews, images and tidied up a little.



3rd September 2003


Added mention of N591, the Korean NUON player.



20th August 2003


Added photos of the VLM in action thanks to the VLM Journal, links below.



20th July 2003


Added a timing hint for the "own remote" region hack.



4th December 2002


Added file size column to the downloads table.



11th November 2002


Numerous people are having trouble with the remote hack and the Samsung N501. I have been assured that it does work, but until I hear it from the horses mouth please bear with it. Or you could try the more hardcore AIWA or other remote hack on your N501.





What's NUON?



The Next Generation NUON Enhanced DVD player!


Samsung DVD-N series player equipped with NUON technology redefines the DVD viewing experience and delivers total interactive entertainment for the whole family. The combination of truly interactive and enhanced DVD movie features & content, advanced graphic effects, and exclusive interactive functionality such as mainstream gaming & Hybrid movie viewing provide broad and compelling consumer appeal. It will change the DVD world from a passive to an interactive experience, and enable the consumer to truly enjoy a broad spectrum of compelling and simple to use entertainment features.



128-bit processor


NUON is a very powerful (true 128-bit) media processor. It is highly parallel and capable of processing over 1.5 billion individually programmed instructions per second. The core processor is a high performance, multifunction, software-based interactive alternative to traditional independent audio, video and graphics processor solutions. NUON utilizes state of the art semiconductor and software technologies to deliver a true breakthrough in consumer entertainment. Using the powerful NUON media processor technology, the Samsung DVD player delivers PC-like multi-tasking features, richer graphic performance and advanced feature sets.



High performance


16 million colors used for the user interface/on-screen display
256 levels of transparency with alpha blending
Samsung NUON Enhanced DVD player is the best DVD player that is also compatible with 3D games. Samsung consumers will be extremely satisfied with the best DVD feature set, 3D game functionality, and interactive movie playing.



The NUON Core processor is the high performance, multi functioning, and interactive alternative to the traditional separate audio, video and graphics processor solutions.



Four MPEs (Media Processor Elements) enable the NUON Enhanced DVD player to use an innovative and advanced parallel processing architecture.





Features



See more


The player brings new life to your DVD collection with a vast array of new features and capabilities. FineMotion™ scan and slow allows for smooth, seamless scanning of DVD video, in both forward and reverse. MediaMacro™ zoom and pan function allows you to magnify any portion of the screen, up to 15 times with virtually no image distortion. Action Capture™ strobe splits fast moving action into nine consecutive frames, constantly updating as the video plays. Use the joystick remote to select the exact frame you want. And the AngleView system displays the current angle of multi-angle discs with a full screen display, while additional angles are displayed as thumbnails along the bottom of the screen.



FineMotion™


Scan and slow offer smooth playback at any speed, from 1/32 to 128.



MediaMacro™


Zoom and pan magnifies images up to 15 times with minimal image distortion.


The icon shows which portion of the picture will be displayed, with the zoom feature


indicated by the decreasing (or increasing) size of the block inside the icon.


The area being viewed can be moved around with the arrow buttons.



AngleView™


Improved display system shows additional angles as thumbnail images.


Simply select an angle to view it full screen.



ActionCapture™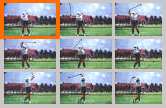 Strobe splits fast moving action into consecutive frames.


Use the enter and arrow buttons to select a frame to view fullscreen.



Screen-fit-Viewing



The player allows the users to eliminate black bars in a letterbox format movie and


fills any TV screen completely with just the picture itself.







Do more




Of course there is more to NUON Enhanced DVD than just video.


The SMART MATRIX™ display lets you view video action while monitoring virtually every DVD parameter. Just use the joystick remotely to navigate the simple icon-based menu. During CD play, the VIRTUAL LIGHT MACHINE™ system displays a variety of pulsing and shifting color patterns, which respond instantly to every musical nuance. Furthermore, our DVD Player with NUON is capable of decoding and playing MP3 files. There is even a MP3 Supportive GUI that lets view the list of all the information on MP3 music encoded on the CD, such as titles, lengths, and group.



SmartMatrix™
Display of the player uses simple icons that encircle the screen, allowing for instant access to DVD movie elements, all occurring while the movie is simultaneously playing on the screen.



Virtual Light Machine™
Turns any music CD or MP3 Playing on the NUON Enhanced DVD player into a stunning light show.
This can be controlled using an analog game controller.




On-Screen Display for MP3 Playback™
The player provides a specially designed graphic user interface (GUI) for MP3 formatted CDs.
Unfortunately, MP3s play in alphabetical order by directory. There is no random/shuffle facility.







Play more


The DVD-N player from Samsung is compatible with, and will play on, NUON video game and infotainment software. While NUON offers an excellent video game performance, it is positioned to become the standard for interactive video entertainment, combining digital video with interactive 3-D graphics in one compelling platform. Furthermore, Hollywood is now providing NUON Enhanced DVD movies that deliver additional content, such as customized graphical user interfaces, movie scripts and story boards, advanced director's commentaries, unlocking of special movie content, and the ability to access studio/movie web sites. Many Hollywood studios have already announced support of this new interactive technology in upcoming movie titles. (This function is available only for N501 and N504)



NUON Enhanced Hybrid Movie™
Bedazzled by 20th Century Fox is the first announced NUON Enhanced Hybrid Movie.
The Planet of the Apes, Buckaroo Banzai



NUON Interactive DVD

™


NUON offers exceptional video game performance. Games available are.







Get more


The player comes complete with everything you will ever need to enjoy Movies, Games and your favorite Audio CD's. The latest version of the new MediaStick advanced game pad comes right in the box. This sleek design fits comfortably in anyone's hand, and features strategically placed buttons as well as a directional control pad. The Advanced Universal remote features Samsung's Joystick Control System, allowing for intuitive navigation of the SMART MATRIX™ User Display or of any DVD Menu. And the elegant front panel of the DVD-N705 gives you complete access to all the fun toys, with game ports, gold plated headphone jack and a silky-smooth headphone volume control. The bright, easy-to-read vacuum fluorescent display monitors all disc activity, while the Jog Shuttle dial takes you straight into the action.



96KHz/24Bit
The High Speed 96KHz/24Bit Digital to Analog audio Converters deliver pristine audio quality from every disc. Most importantly, they accurately reproduce the latest DVD discs that are recorded in the latest 96KHz/24Bit format.



HDCD
The Integrated HDCD Decoder system archives extreme clarity from these special CD discs. The HDCD decoder uses specific information on the disc to vastly improve low level detail and ambience beyond the performance of traditional CDs.



MP3 Playback Capability
The player is capable of decoding and playing MP3 files. In addition, the player also provides a specially designed graphic user interface (GUI) for MP3 formatted CDs.



Specification

Audio: Frequency response 4Hz - 20.05kHz(44.1kHz, ˜±1dB)


4Hz - 48.0kHz(96.0kHz, ˜±1dB)


Signal-to-noise ratio 108dB


Dynamic range 96dB


Video: Signal-to-noise ratio 68 dB


Audio Terminal: 2 Ch audio out (L/R) 2 set


Coaxial digital out 1 ea


Optical digital out 1 ea


Video Terminal: Composite video out 2 ea


SCART AV JACK 1 ea


S-video out 1 ea


Net Dimensions: 17"(W) x 2 3/4"(H) x 9 1/2"(D)


Net Weight: 6 1/4 lbs

** DVD-N504 is compatible with NUON video game software and infotainment software.



Awards
DVD-N501
products

DVD-501
Date
Oct, 2001
Title
This DVD player is exceptional
Summary
- This product has the longest Pro list of any item I have reviewed.
- You should be able to find it for under $200 US, for everything the N501 has that is a great price.
Media
Ianag.com (Canada. Local archive, Google archive 1 2 3 4 5)
DVD-N501
products

DVD-501
Date
May, 2001
Title
Well built, packed with a lot of really nice features
Summary
An excellent sub-$250 player and packed with a combination of features you won't find on any other player.
Media
Logjammin' (USA)
DVD-N505
products

DVD-N505
Date
Issue 103
Title
Best Buy (5 star award)
Summary
- A great machine with plenty of neat features.
- Simply a great performer and well worth shortlisting
Media
Home Entertainment (UK)
DVD-N2000
products

DVD-811
Date
Jan, 2001
Title
Best of 2000 Awards
Media
E-Gear/Dealerscope
DVD-N2000
products

DVD-811
Date
Jan, 2001
Title
A recommended product
Summary
- The N2000 is a full-featured DVD Player ideally suited for those who are looking for a rather inexpensive but still powerful unit.
- It's available for a good price, it's a great unit and worth considering.
Media
Ianag.com (Canada)

Reviews
Products
Title
Media
Date
DVD-N505
Niche product
What Video and TV?
Jul, 2002
DVD-N501
Enhanced Performance DVD Player
with Noun Chip
PCstats.com
Jun, 2001
DVD-N2000
Editors' Top 5 DVD Player Award
CNET
Apr, 2001
DVD-N2000
Editors' Top 5 DVD Player Award
CNET
Mar, 2001
DVD-N2000
Best Value Award
CNET
Mar, 2001
DVD-N2000
all the standard features of a low-cost
player/Nuon capability
CNET
Mar, 2001

Downloads
| | | | |
| --- | --- | --- | --- |
| Products | Title | Size | Media |
| DVD-N501 | User manual | 1.08 MB | PDF |
| DVD-N504 | User manual (corrupt) | 320 KB | PDF |
| DVD-N505 | Promotional brochure | 1.90 MB | PDF |
| DVD-N504 | Huge photo of unit | 192 KB | JPEG |
| DVD-N504 | Illustration of remote | 50 KB | PNG |
| DVD-N505 | Large photo of unit | 68 KB | JPEG |
| DVD-N505 | Large photo of remote | 77 KB | JPEG |

PDF files need Acrobat Reader





Hacking


It's possible to set these players as multi-region, enabling you to play any movies. It involves entering a sequence of remote control button presses.


One
Two § †
Three ¶
Four
Five

Press REPEAT
(not REPEAT A-B)

You will see a no entry symbol.

Enter territory code

You only have a few seconds to enter all five digits. If you make a mistake or the box disappears before you've finished start again.

Enter region unlock code

Press the number matching the region you would like the player to be. 1-6 for specific regions, 9 for region free.

Press DVD POWER

The tray will close automatically.

You have changed the region!

Do not pause between these two steps. So in fact you are entering a six digit code, eg. 387679



¶ Possibly followed by a "Region Free" message.


§ Possibly followed by display of the current region number.
† Consult the table below for other territory codes (untested).


| | |
| --- | --- |
| Region | Territory code |
| 1 | 29334 |
| 2 | 38767 (some firmware use 57538 instead) |
| 3 | 56732 |
| 4 | 76884 |
| 5 | 53814 |
| 6 | 24462 |

Factory Reset
| | |
| --- | --- |
| Step | Action |
| 1 | Power on with no disc in the unit. |
| 2 | Press STOP and PLAY on the unit itself simultaneously for three seconds. |
| 3 | The unit will reset and power down after displaying a short notice. |

Links



Some content Copyright © 2002 Samsung Electronics Co., Ltd.