My other stuff:
Donate
You can use PayPal to donate. Doing so will encourage updates of this software.
Thank you.
Ceefax Viewer - a widget for Mac OS X Dashboard
by Matt Sephton
Background
Ceefax (phonetic for "See Facts") is the BBC's teletext information service. Teletext is an information retrieval service provided by television broadcast companies. Teletext pages can be viewed on television sets with suitable decoders. They offer a range of text-based information, usually including national, international and sporting news, weather and TV schedules. Subtitle (or closed caption) information is also transmitted in the teletext signal.
See Wikipedia for a longer definition.
Purpose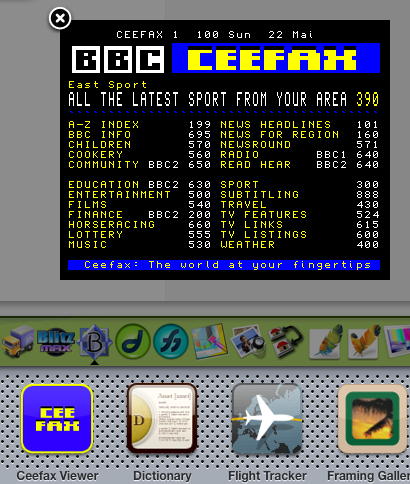 This widget will let you view Ceefax at any time using Dashboard. You do not need a TV but you will need Mac OS 10.4.3 or better and an internet connection.
Usage
Click on the page numbers to navigate around the service. Access keys: H = Home, R = Refresh, J = Jump to a page, Up/Down = move sub-pages, Left/Right = move pages, Backspace = previous page, #1-0 = set bookmarks, F1-F10 = use bookmarks, I = Info.
Download
zip file (20KB zip) 10 Nov 2008 (1.4)
zip file (20KB zip) 06 Apr 2010 (1.4large)
How to install
Installation is usually automatic. Otherwise...
Unzip archive
Copy Ceefax Viewer.wdgt to ~/Library/Widgets/
Activate Dashboard
Click plus symbol in lower left of dashboard screen
Locate Ceefax Viewer
Click to launch
Done.
Troubleshooting
First thing to do is reboot your machine as Dashboard has problems that appear after extended periods of time.
If hyper-linking stops working simply press R to refresh the current screen.
If the widget does not respond to key presses, click on it.
If the screen shows black your computer (esp. Dashboard) needs a restart.
The feed may occasionally capture incomplete or blank pages, or may be down at times.
The feed sometimes displays the wrong date at the top of the Ceefax screen.
The feed is unfortunately limited to the East Anglia region.
Installing a new version may require manual replacing of the widget.
Version history
06 Apr: Added a large display version of Ceefax Viewer. (1.4large)
2010
10 Nov: Rebuilt in part using Dashcode, so it's optimised for OS X 10.5 Leopard. Fixes the issue when the widget only showed the top left corner of the page. (1.4)
28 Feb: A version of Ceefax Viewer has been release for Chumby. Read more about it here.
2008
30 Nov: Updated due to a change in the feed. (1.3)
21 Nov: This adds a loading screen and a simple error screen if the feed happens to be down. Also adds a few cosmetic improvements with jump to page, version checking, the button on the reverse and other bits. (1.2)
21 Jun: Fixed prefs problem that affected "Done" button for new users, added sanity check for non existant pages, reworded instructions, improved check for update and manual page number history. (1.1)
19 Jun: Added bookmarks, refresh on show, weekly version checking and back to previous page. (1.0)
30 May: All feature requests added! (0.9)
29 May: Rewritten main bulk of code, feedback still appreciated (0.2)
23 May: Publicised on various websites
22 May: Initial, private release (0.1)
2005

News
Jan 24: If you are, or know of, the owner of the Ceefax.tv feed please get in touch with me.
2006
21 Dec: Apple UK user's favourite widget
14 Dec: Thinking about doing a Google personalised homepage module of Ceefax Viewer.
01 Nov: Published RSS news note about the feed going up and down.
20 Jul: Published RSS news note about "blank" pages. This seems to be a problem at the BBC end of things, affecting the feed and therefore the widget.
31 May: Featured in MacUser!
22 May: For the latest news please subscribe to the RSS feed.
2005
Links
Version Tracker
Mac Update
Softpedia
Dashboard Widgets
Apple.com

Thanks to www.ceefax.tv for providing the feed and the BBC for supporting Ceefax for such a long time.